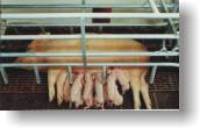 The PORCOM Farrowing Floor is utilizing a heavy-duty coated creep area designed to support the raised SCHONLAU cast-iron center. This innovative idea reduces the overall manufacturing costs of this farrowing deck and will pass these savings on to you - the farm operator. The raised center and creep areas are separate units to ease handling, installation and flexibility. From the five different (12"-48" wide) open or partially closed creep areas available, the proper system for your individual application can be selected.
For your sows, the SCHONLAU cast-iron slats provide a slip-resistant, durable surface that safeguards against teat and foot injuries and shoulder abrasions. It allows superior manure filtration, cleaning and disinfecting, and

will not harbor diseases. With the SCHONLAU cast-iron slats you have a proven farrowing floor with an unmatched warranty and service life that gives your sows their best chances for maximum production.
For your piglets, the plastisol coated expanded metal creep areas will greet your newborn piglets with a soft, warm,

bedding-type environment. Those costly and painful bruises, abrasions and other discomforting problems are greatly reduced. The non-conducting insulating surface reduces the heat loss of your piglets and results in faster daily gains and earlier weaning. The comfortable soft, warm surface will keep your piglets away from the area under the sow, therefore increasing the number of piglets weaned.
Copy write © Agronoma International